Services
BECAUSE THERE IS NO PLACE LIKE HOME…
Home Health Care
BECAUSE THERE IS NO PLACE LIKE HOME…
SALOKAYA IN HOME HEALTH CARE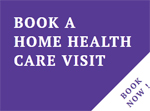 Salokaya Home Health Care offers you professional, consistent and compssionate care in your homes. For times when you cant get to the hospital or you would rather recover in the comfort of your own home, we are there for you.

We sustain and maintain your loved one's quality of life in the comfort of your own home.
CALL US
92 159 159 01/02
Follow the links below to fully understand the wide range of services you can use. You can call for a Free HOME Assessment to understand your options.
Salokaya In Home Health Services
When is In-Home Care the right choice?
How do you know if you or a loved one needs home care assistance or relief? Learning to recognize the early signs of need or family caregiver stress will assist you in your evaluation. While each individual is different, there are common factors that you can look for to determine the necessary levels of care.