Home Health Care
Our Services
SALOKAYA IN HOME HEALTH CARE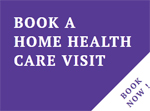 We sustain and maintain your loved one's quality of life in the comfort of your own home. CALL US
Salokaya is committed to providing outstanding care and exceptional service. Through our trained professionals and clinicians, Salokaya offers a wide range of clinical services and equipment. Below are some of our offerings, and we're dedicated to making all of them easy and positive experiences for you.
Care at Home Services
When is In-Home Care the right choice?
How do you know if you or a loved one needs home care assistance or relief? Learning to recognize the early signs of need or family caregiver stress will assist you in your evaluation. While each individual is different, there are common factors that you can look for to determine the necessary levels of care.