Your Dream Nursing Career Starts Here: Salokaya College - The Top Nursing College in Delhi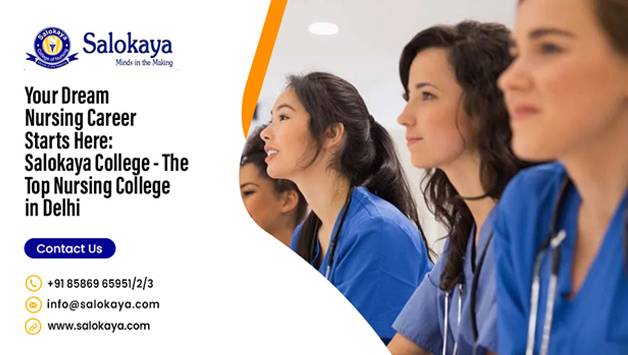 If you aspire to pursue a fulfilling nursing career and are searching for the best nursing college in Delhi, look no further. Salokaya College stands out as the undisputed leader among the top nursing colleges in Delhi, offering a world of opportunities for students ready to embark on their journey into healthcare.
Salokaya College: Paving the Path to the Best Nursing Course in Delhi
In the bustling heart of India, Delhi, aspiring nurses find their dreams fulfilled at Salokaya College. As the top nursing college in Delhi, Salokaya College takes pride in its comprehensive nursing programs that provide students with the best possible start to their healthcare careers.
Salokaya College's commitment to delivering the finest nursing education is reflected in several key aspects:
Faculty Excellence:Salokaya College's nursing programs are led by a team of dedicated and experienced faculty members who bring a wealth of knowledge and real-world expertise to the classroom. Their guidance ensures that students receive a top-notch education.
Cutting-Edge Facilities: To excel in the nursing field, students need access to the latest tools and technologies. Salokaya College spares no effort in providing state-of-the-art facilities, enabling students to develop essential practical skills and knowledge.
Extensive Educational Program: Salokaya College provides a diverse and comprehensive curriculum encompassing a broad range of nursing subjects. This ensures that students receive a well-rounded education, equipping them to confidently tackle the demands of contemporary healthcare.
Placement Opportunities:Salokaya College has a track record of excellent graduate placement opportunities. Many alumni have gone on to work at top healthcare institutions, making it clear that this college can pave the way to the best nursing career in Delhi.
Conclusion
Your journey towards a flourishing nursing career takes flight at Salokaya College in Delhi. Here, we prioritize your all-around growth, provide access to state-of-the-art resources, and boast a faculty committed to shaping the nurses of tomorrow. Opt for Salokaya College and chart a path toward the finest
Nursing course in Delhi
, turning your dreams of a rewarding nursing career into a tangible reality.