Choosing the Best Nursing College in Delhi: Factors to Consider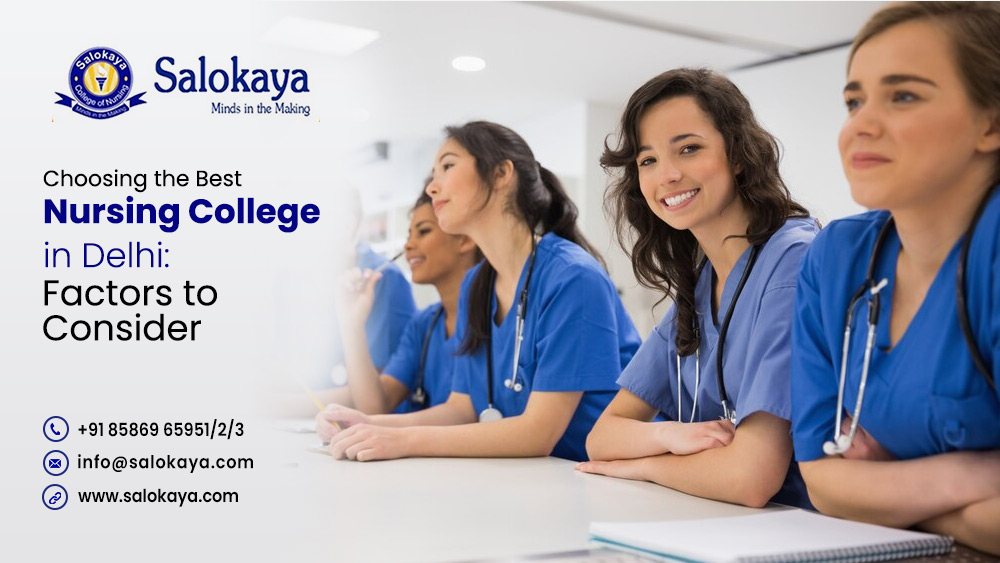 When it comes to embarking on a nursing career, the choice of college holds immense importance. Delhi, the thriving capital city of India, presents a multitude of options for those aspiring to become nurses. However, the selection of the finest nursing college in Delhi necessitates thoughtful contemplation of numerous factors. Within the confines of this article, we shall delve into the fundamental aspects that demand careful consideration when making a decision regarding a nursing college in Delhi. Ranging from academic prowess to state-of-the-art facilities and promising placement prospects, we shall comprehensively cover all the vital information required to enable you to make a well-informed and astute choice.
Accreditation and Affiliation
When selecting a nursing college, it is essential to consider its accreditation and affiliation. Look for colleges that are approved by the INC and affiliated with reputable universities. Accreditation ensures that the college meets the necessary quality standards, and affiliation with a university adds credibility to the nursing program.
Academic Excellence
One of the primary factors to consider is the academic excellence of the nursing college. Look for colleges that have a track record of producing skilled and competent nurses. Check the curriculum, teaching methods, and assessment techniques employed by the college. Additionally, consider the pass percentage of students in licensing exams as an indicator of the college's academic performance.
Infrastructure and Facilities
A well-equipped infrastructure and modern facilities contribute to a conducive learning environment. Visit the college campus or explore their website to assess the infrastructure and facilities available. Look for well-equipped classrooms, laboratories, libraries, and simulation labs that provide hands-on training opportunities.
Clinical Exposure
Clinical exposure is a crucial aspect of nursing education. It provides students with real-life patient care experiences and enhances their practical skills. Inquire about the tie-ups and affiliations of the college with hospitals and healthcare institutions for clinical training. More extensive clinical exposure ensures better preparation for the challenges of the nursing profession.
Placement Opportunities
Consider the placement opportunities provided by the nursing college. Research the track record of the college in terms of placements and job opportunities for nursing graduates. Look for colleges that have collaborations with reputed healthcare organizations, hospitals, and nursing homes. A strong placement support system can significantly benefit your career prospects.
Student Support Services
A supportive environment is essential for the holistic development of nursing students. Inquire about the student support services provided by the college, such as counseling, mentoring, and career guidance. These services can help students cope with the academic and personal challenges they may encounter during their nursing journey.
Recognition and Rankings
Check the recognition and rankings of the nursing college you are considering. Look for colleges that have received awards, accolades, or rankings for their excellence in nursing education. However, keep in mind that rankings should not be the sole determining factor and should be considered along with other aspects.
Fees and Scholarships
Consider the fees structure of the nursing college and evaluate it in relation to the facilities and opportunities provided. Additionally, inquire about the availability of scholarships or financial aid programs. Scholarships can ease the financial burden and make quality nursing education more accessible.
Location and Accessibility
The location of the nursing college is another crucial factor to consider. Evaluate the accessibility of the college in terms of transportation and accommodation options. Consider whether the college's location aligns with your preferences and convenience.
Extra-curricular Activities
Apart from academic pursuits, consider the availability of extra-curricular activities in the nursing college. Engaging in sports, cultural events, and clubs can contribute to your overall personality development and make your college life enriching.
Community Engagement
Nursing is a profession that revolves around serving the community. Inquire about the college's involvement in community engagement activities, health camps, and awareness programs. A college that emphasizes community service can instill a sense of social responsibility in its students.
Conclusion
Choosing the best nursing college in Delhi requires careful consideration of various factors. From academic excellence to infrastructure, clinical exposure, and placement opportunities, each aspect plays a crucial role in shaping your nursing career. By evaluating these factors and conducting thorough research, you can make an informed decision that aligns with your aspirations and goals. If you are looking for such college then the best one will be Salokaya.